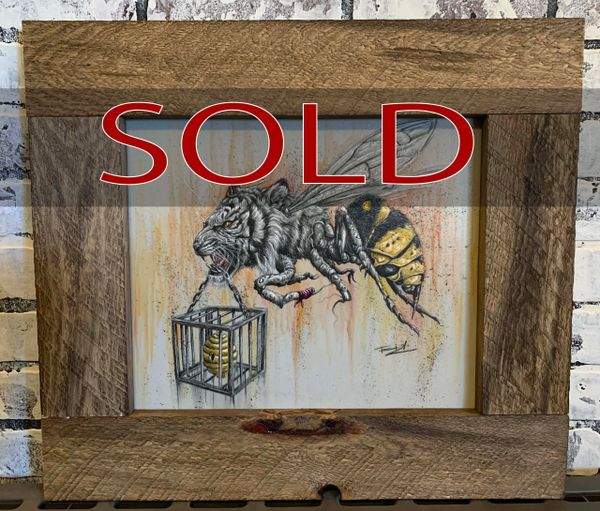 Tiger Sting (original)
Original Art by Tai:
This Mixed-Media original painting was created with ballpoint pen, color pencil, acrylic ink and watercolor on Mylar. The Mylar is milky transparent and is mounted over archival gray tone paper. The background colors are acrylic ink. The colors on the drawing portion were done with color pencil on the back side of the mylar. The white highlights were done with a white color pencil The entire sheet of mylar has a rolled-on finish of UV & waterproof protectant. The original is in a custom frame also built by Tai made specifically for this piece. Purchases on Original pieces are final.
Prints of this original piece are available here: https://artbytai.com/products/tigersting
Measurements (approximate, including frame): 
19" Tall
21" Wide
1" Deep
Shipping & Ordering:
Please allow 1-2 weeks for delivery. In most cases it'll arrive within 3-4 business days.

single orders will ship USPS Priority Mail for U.S. residents

all Canada and multiple orders will ship USPS Priority Mail


all international orders will ship USPS Priority Mail International



Reviews