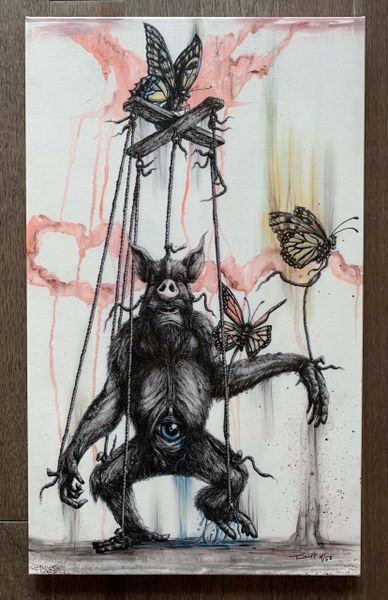 Monarchy Masquerade
Art by Tai: (mARTch Madness deal on limited edition stretch canvas giclée)
Canvas giclee reproduction is a high resolution digital photo scan of Tai's Mixed-Media original painting, which was created with ballpoint pen, color pencil, pastel, charcoal and watercolor on Mylar. Printed with high quality 12 color gamut archival inks on gallery quality fine art matte canvas. The canvas has been rolled with a UV and waterproof protectant. 
These canvases were part of Tai's "I Am Animal" solo exhibitions in France in 2019. These are the remaining pieces from the show and are an older series which is why Tai is willing to release them to his collectors at such a low cost.
Details:
title: Monarchy Masquerade

size: 13 inch tall x 21 inch wide


year: 2017

version: Canvas Giclée - #4/50

Shipping & Ordering:
Please allow 1-2 weeks for delivery. In most cases it'll arrive within 3-4 business days.
single orders will ship USPS Priority Mail for U.S. residents
Reviews