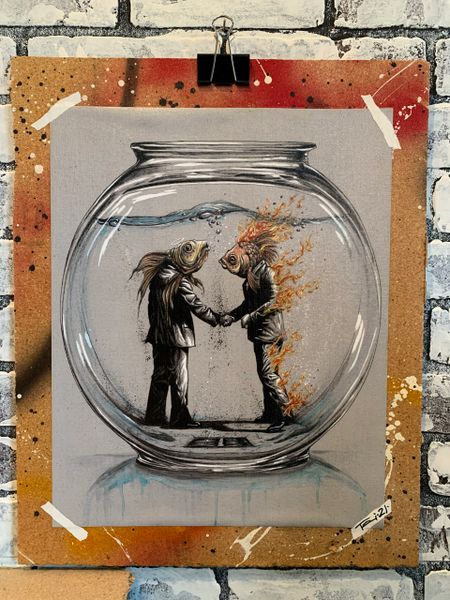 Two Lost Souls
Art by Tai: ("Raw" mounted canvas giclées)
A canvas giclee is a high resolution digital photo scan of Tai's Mixed-Media original painting, which was created with ballpoint pen, color pencil, pastel, charcoal and watercolor on Mylar. Printed with high quality 12 color gamut archival inks on gallery quality fine art matte canvas. The canvas is mounted to an 16"x20" piece of scrap wood with white artist tape. The entire face of the piece is then brushed with a thick layer of Acrylic Gloss Medium & Varnish. The tape is for a "raw" visual effect and is not what is holding the paper onto the wood. The canvas is mounted to the wood via the adhesion of the acrylic medium. The canvas is approximately 13.5"x16.5" and the wood it is mounted on is approximately 16"x20". The piece is intentionally made to appear in its raw form. It can be hung with the binder clip, but can also be framed in a standard 16"x20" frame.
Shipping & Ordering:
Please allow 1-2 weeks for delivery. In most cases it'll arrive within 3-4 business days.
Reviews