Day 9 Vintage Boxing Match: Doom Slayer vs. Master Chief (print)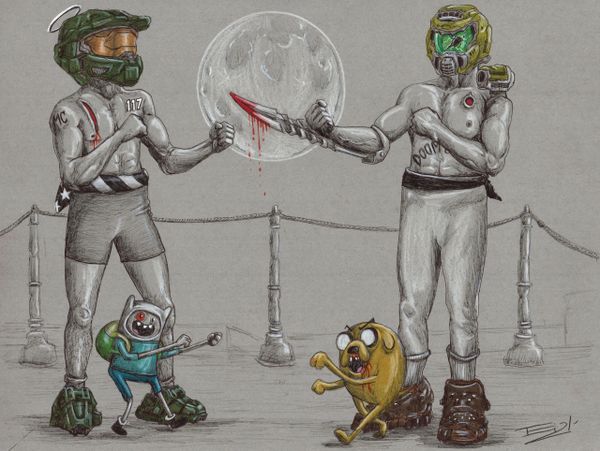 Day 9 Vintage Boxing Match: Doom Slayer vs. Master Chief (print)
Prints of Tai's 2021 INKTaiber sketches:
Prints of Tai's original 2021 INKTaiber sketches. A series of 2 hour daily sketches created during the month of October 2021. The daily prompts conceived by Tai.
The Prints are high resolution scans of the original drawing and printed with high-quality color gamut pigment inks on fine art paper.
- artwork title and artist signature is at the bottom of the image
- sealed in a clear sleeve with a recycled archival backboard.

The original: 
The original drawing was drawn with ballpoint pen on gray-toned art paper.
Shipping & Ordering Info:
- packaged in a sealed clear archival sleeve with an acid-free, recycled backing board.
- Please allow 1-2 weeks for delivery. In most cases it'll arrive within 3-4 business days.
- single orders will ship USPS First Class Mail for U.S.
- all Canada and multiple orders will ship USPS Priority Mail
- all international orders will ship USPS Priority Mail International
Reviews