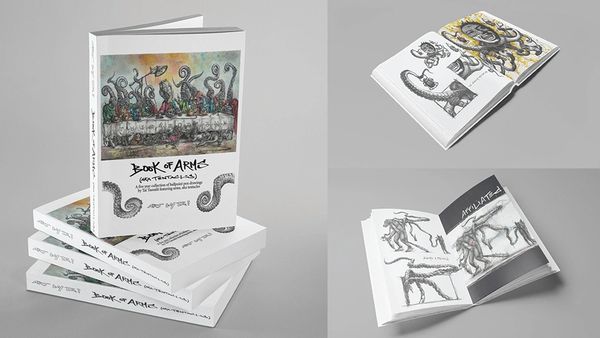 Book of Arms
I have a few books left from the Kickstarter preordering. These are all that are available until 2022. You can buy it here now for $75 or you can wait til mid-year 2022 and possibly get it for $65. One of the major differences is that you're getting it earlier this way & the funds go entirely to myself, which I put right back into my ArtByTai brand.
The other route will be through the publisher, where they take more than 70% of that price.
Your choice. I don't care either way, I just want ya to own the book, cuz I'm pretty proud of it.

Overview
The long awaited book of Tai illustrations is a 5 year collection of drawings by Tai that feature or contain tentacles, aka arms.


Description
ArtByTai collectors and appreciators have been asking for a book of Tai illustrations for over a decade. Their request has finally come to fruition in Tai's Book of Arms.
This book is called "Book of Arms (AKA Tentacles)" and it is a five year collection of my artwork that features or even just has reference to a tentacle. A high quality hardcover book with 168 pages of my artwork.
Why $75? Consider this....just one 11x14 print of mine is $35, a 16x20 print is $65. I figure that's explanatory enough regarding that.
Reviews