Aesop Rock pop art by WeirdChief (stencil art, ironlak, spraypaint rattlecan, stencilism)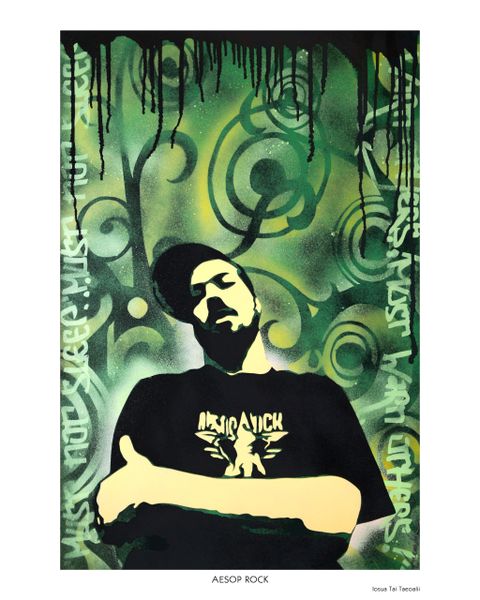 Aesop Rock pop art by WeirdChief (stencil art, ironlak, spraypaint rattlecan, stencilism)
Prints of Tai's WeirdChief stenciled pop art:
8x10 prints of Tai's stenciled pop art work from the early 2000s created under the moniker #WeirdChief.
The print is made from a hi-res photo scan of the original which was created with multi-layer Mylar stencils & Ironlak spraypaint on 20x30 Masonite board. printed with high-quality color gamut pigment inks on 8"x10" fine art paper.
artwork title and artist signature is at the bottom of the image

sealed in a clear sleeve with a recycled archival backboard.

The original: 
The original drawing was created with multi-layer Mylar stencils & Ironlak spraypaint on 20x30 Masonite board
Shipping & Ordering Info:
packaged in a

sealed clear archival sleeve with an acid-free, recycled backing board.



Please allow 1-2 weeks for delivery. In most cases it'll arrive within 3-4 business days.

single orders will ship USPS First Class Mail for U.S.

all Canada and multiple orders will ship USPS Priority Mail

all internation

al orders will ship USPS Priority Mail International



Reviews