News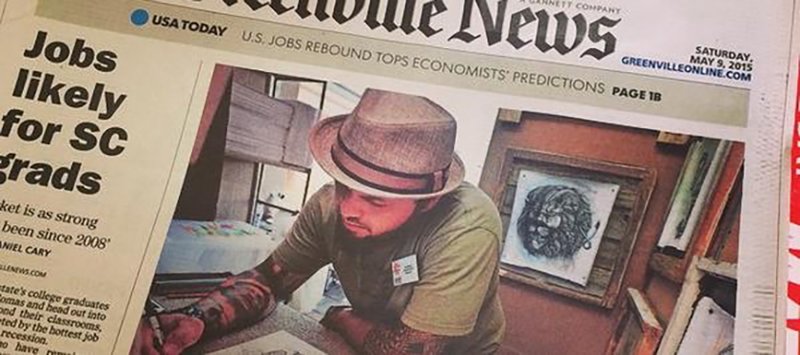 ·     PEN WORLD INTERVIEW

    o    Pen World Magazine interviews Tai about his use of the standard ballpoint pen. Download PDF of full interview.
·     2019 HUNTER S. THOMPSON PINDROP

    o    Gonzo Pindrop...Purchase yours at ManyVisionsApparel.com
·     TAI'S CRYPTIC TRYPTIC COLLABS 

    o    Tai will be collaborating with artists all across the globe this Summer to create Tai's Tri-Cryptic Collabs. 1st collaboration was with Shawn Coss & Tyler Lamph. See all 3 Collaboration pieces.
·     AWARD OF DISTINCTION 

    o    Tai wins the Award of Distinction at the Lake Wales Arts Festival in Lake Wales, FL.
·     2018 INKTAIBER PRINTS
          o   Prints of the 2018 Mixed-Media color InkTaiber creations are now available for purchase at ArtByTai.com.
·     SOCIAL MEDIA
o   Follow ArtByTai on Instagram & Facebook for best up-to-date info @ArtByTai.
·     HOW TO DRAW A STICK FIGURE LIKE ART BY TAI
o   Watch ArtByTai's "how-to" draw a stick figure video
·     #TAITHIRTY 30 MINUTE PORTRAIT SKETCH EXERCISE
o   Follow the hashtag #TaiThirty on Instagram to see all of Tai's 30 minute portrait sketch time-lapse videos
·         2019 SHOW SCHEDULE
o   Stay up to date with Tai's 2019 schedule.
·         HASHTAG #ARTBYTAI
o   Make sure to hashtag #ArtByTai on any of your social media posts featuring Tai's art. He's currently looking over the social media platforms for posts of his work and is looking to give away a free original drawing to a randomly selected #ArtByTai hashtagger.
·         PODCAST INTERVIEW
o   Listen to Tai's recent 'Your Creative Push' podcast interview for some creative inspiration
·         ART BY TAI YOUTUBE
o   Watch Time-Lapse drawing videos at the ArtByTai YouTube page
·         ART BY TAI BOOK
o   Art By Tai coffee table book will be coming very soon!