News
Get the latest news here. Let's be honest though. Sometimes on so hard on the grind that I don't have time to keep the News totally up to date. I definitely attempt to, but for the most up to date information, follow me on Instagram & Facebook.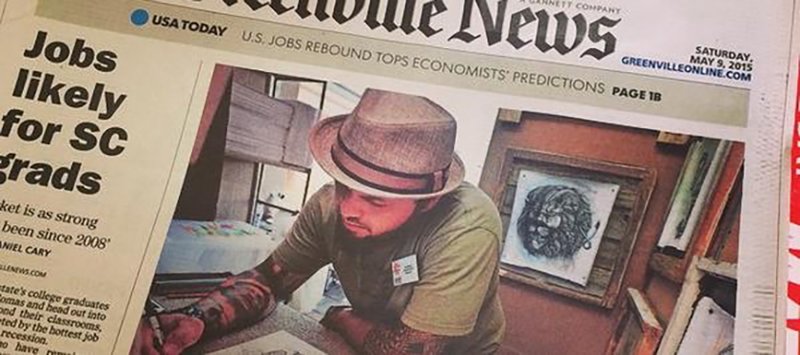 INKTAIBER 2021
Daily INKTaiber Auctions start Oct. 2nd on
eBay
ART BY TAI STUDIO & GALLERY
Tai's new studio & gallery in Hannibal, MO will be opening in the Summer of 2021.
CORONAVIRUS CANCELLATIONS
Coronavirus is wreaking havoc on the 2020-2021 festival season.  Follow me on Instagram & Facebook for up to date schedule of shows.
2021 ART
Tai's 2021 artwork available for purchase
HERE
. (more will be added throughout the year)
2021 ARTIGRAS 1ST PLACE AWARD
Tai receives the '1st Place Award' in drawing at Artigras in Palm Beach, FL.
SOCIAL MEDIA
Follow ArtByTai on Instagram, Facebook, TikTok, YouTube & Twitter for best up-to-date info @ArtByTai
HOW TO DRAW A STICK FIGURE LIKE ART BY TAI
Watch ArtByTai's "how-to" draw a stick figure
video
#TAITHIRTY 30 MINUTE PORTRAIT SKETCH EXERCISE
Follow the hashtag #TaiThirty on Instagram to see all of Tai's 30 minute portrait sketch time-lapse videos


HASHTAG #ARTBYTAI
Make sure to hashtag #ArtByTai on any of your social media posts featuring Tai's art. He's currently looking over the social media platforms for posts of his work and is looking to give away a free original drawing to a randomly selected #ArtByTai hashtagger.


PODCAST INTERVIEW
Listen to Tai's recent
'Your Creative Push'
podcast interview for some creative inspiration
ART BY TAI BOOK
Art By Tai coffee table book will be coming very soon!