News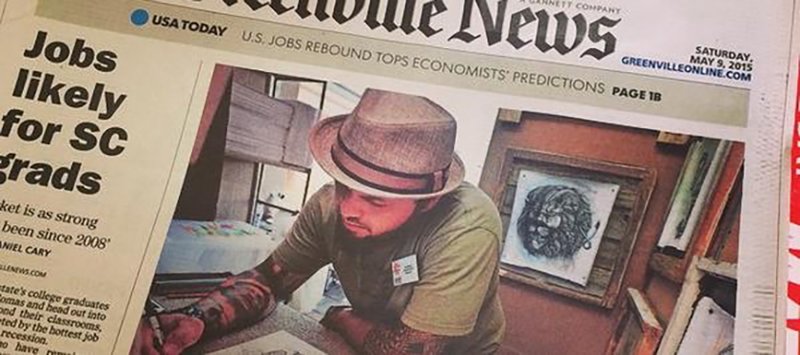 ·     DRINK AND DRAW WITH TAI
o

   
Join me LIVE for a virtual 'Drink & Draw' this Sat. April 4th @ 3PM (mtn. time).  Limited space available. Pre-Register for your tickets here. 
While we're social distancing, some even on mandatory lockdown, let's use the time to draw together. During the 2 hour video conference we'll draw one of my creations as I provide instruction & reveal some of my self-taught techniques.
You don't have to be an artist to join in and have fun. It can be just for fun or if you want to use it as a way to learn something. It could be a fun night with your "lockdown companions" or some "me time".
For the #DrinkAndDrawWithTai all you'll need is paper, a pen, a computer or smart-device, internet access & a drink (or no drink) of your choice. If you're going to drink, I'd like to suggest you purchase local from your town. I'm goin' with Kiitos Brewing.
·     CORONAVIRUS CANCELLATIONS
o

   
Coronavirus is wreaking havoc on the 2020 festival season.  So far, Deep Ellum Arts Fest, Atlanta Dogwood Art Fest, Festival International, Utah Arts Festival, and Schlafly Art Outside have either cancelled or postponed their festival.
·     2020 ART

    o    Tai's 2020 artwork available for purchase HERE. (more will be added throughout the year)
·     PEN WORLD INTERVIEW

    o    Pen World Magazine interviews Tai about his use of the standard ballpoint pen. Download PDF of full interview.
·     2019 UPTOWN ART FAIR BEST OF

    o    Tai receives the 'Best of Show' in drawing award at the Uptown Art Fair in Minneapolis, MN 
·     2019 HUNTER S. THOMPSON PINDROP

    o    Gonzo Pindrop...Purchase yours at ManyVisionsApparel.com
·     TAI'S CRYPTIC TRYPTIC COLLABS 

    o    Tai will be collaborating with artists all across the globe this Summer to create Tai's Tri-Cryptic Collabs. 1st collaboration was with Shawn Coss & Tyler Lamph. See all 3 Collaboration pieces.
·     SOCIAL MEDIA
o   Follow ArtByTai on Instagram & Facebook for best up-to-date info @ArtByTai.
·     HOW TO DRAW A STICK FIGURE LIKE ART BY TAI
o   Watch ArtByTai's "how-to" draw a stick figure video
·     #TAITHIRTY 30 MINUTE PORTRAIT SKETCH EXERCISE
o   Follow the hashtag #TaiThirty on Instagram to see all of Tai's 30 minute portrait sketch time-lapse videos
·         2020 SHOW SCHEDULE
o   Stay up to date with Tai's 2020 schedule.
·         HASHTAG #ARTBYTAI
o   Make sure to hashtag #ArtByTai on any of your social media posts featuring Tai's art. He's currently looking over the social media platforms for posts of his work and is looking to give away a free original drawing to a randomly selected #ArtByTai hashtagger.
·         PODCAST INTERVIEW
o   Listen to Tai's recent 'Your Creative Push' podcast interview for some creative inspiration
·         ART BY TAI YOUTUBE
o   Watch Time-Lapse drawing videos at the ArtByTai YouTube page
·         ART BY TAI BOOK
o   Art By Tai coffee table book will be coming very soon!