Become a member at ArtByTai Patreon and get access to all future and past Drink & Draw sessions and join the ArtByTai Insiders group on Facebook to stay informed on upcoming dates.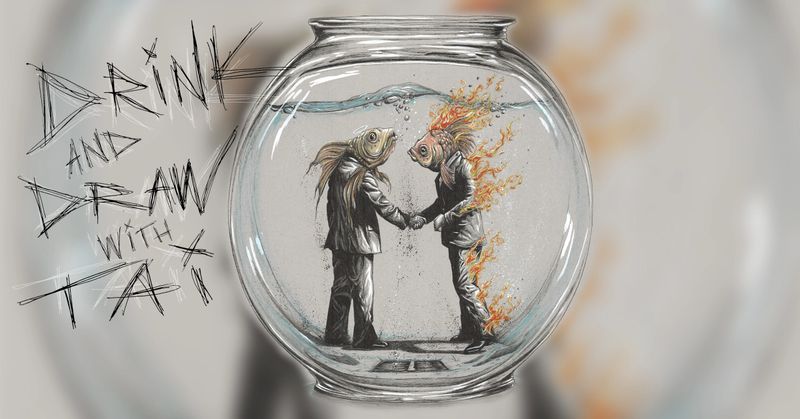 Drink & Draw With Tai
Join me LIVE for a 2 hour virtual 'Drink & Draw' via Zoom. During the two hours I'll provide my drawing techniques with casual and comprehensible instruction at a pace that will allow you to draw along with me.




With some of the public restrictions being lifted, I realize staying at home for some of you isn't all that appealing, so I've lowered the rate of the Drink & Draw sessions. Also, I don't want to dip into your Summer weekends, so I've moved the sessions to Thursday evenings. If "Stay at Home" orders are still in place in June, then use this online drawing session as a morale booster & as a positive distraction from the chaos.


Past sessions have been diverse with age ranges from 5yr olds to 70yr olds; skill level ranges from "never drawn before" types to professional artists. They often include entire families drawing together, couples date-night drawing or just lone-creators. It's an open nonjudgmental environment for all.





Rate:


$12 for 2 hour drawing class (per household device)





Early-bird discount:




- $6 off if purchased 6 days prior to event.

Things you'll need:


- several sheets of white paper (I'll be drawing on 140 pound water color paper)

- multiple pens (in case you run out of ink)

- 2 cocktails/alcoholic or non-alcoholic beverage of choice

- Desktop, laptop or smart-device with efficient Internet access

- an open mind & a willingness to have a little fun




You'll need to download 

Zoom

 at: https://zoom.us/

You don't have to have a Zoom account to join, but you will need the app.

For the best Drink & Draw experience please participate in my short 

10 minute warm-up video

 prior to the session. It will be beneficial to you. In it I briefly provide some tips on how I use light source & my particular shading styles that we'll be using in the session. Video Link Here 




I made another useful video to watch prior to a Drink & Draw. Video Link Here

If you have more than one family member drawing with you, I'd recommend a desktop (or larger-screened device) because multiple devices near each other creates a bad echo.

Once you purchase your ticket, you'll receive a registration notice at the confirmation page & via your email address. From there you need to register at the Zoom event with the email address that you'll be using to sign into Zoom. Do it right after you pay so you don't forget.

Prior to the session start time you should have received an email with session log-in information. (be sure to check your spam mail)

 If you haven't received it within 2 hours of start time contact me immediately at 

drinkanddraw@ArtByTai.com

. Make sure that you have Zoom downloaded and are ready to enter the password. It is a 2 hour session and we will start promptly.


*By the end of the 2 hours, you should have something on your paper that resembles what we set out to draw. I usually stay online for an additional hour, it's optional, but in that 3rd hour is when I start adding in the really weird stuff. Everyone is welcome to continue into the 3rd hour, if there is one.

*As of now, the 'Drink & Draws' will be bi-monthly on Thursday nights. I will continue them for as long as people continue to join.

*Parents, while there is no age-restriction, please note this class is geared toward adults and you can expect adult conversation that may not be suitable for children.


  . . . .