Who is Tai?

Tai Taeoalii
"Deep and darkly whimsical, Tai's intricately detailed drawings envision an alternate universe in its post-apocalyptic throes. His world is inhabited by a menagerie of black-and-white beasts: warthogs, giraffes, crocodiles, bats, monkeys, mammoths and aliens. Tai's animalistic art is avant-garde yet accessible and delightfully disturbing. Skulls, guns and gas masks on rabbits reflect the angst-ridden ethos of the modern era. Anarchy looms. Images comment on war, industry and environmental degradation through the peaceful strokes of an artist." - Fort Worth Magazine
Biography
Creating with inspiration fueled by music and the nostalgic memories of my turbulent teenage years, I've tried to utilize my self-taught techniques, cultivated from urban doctrines, in an effort to create art that evokes an honest & hopefully profound emotional experience. 

Growing up as a bi-racial child in Salt Lake City, Utah, in a predominantly white, suburban environment, I fabricated a self-perception of pariahdom. Tormented with that angst and confusion at such a young age, I was fortunate to discover that the arts were a perfect way to express the frustrations of my cultural identity. Through my artistic explorations I realized my auto-didactic ability, which evolved into experimentation with nearly every type of art-form, including graffiti and tattoo work, but no medium has captured and retained my affections as strongly as drawing with a ballpoint pen, so that has been my central focus for most of my artistic career.
My recent artworks are surreal creations of ballpoint pen drawings on Mylar film, with additional accents of color created from pencils, pastels, charcoals and a drizzle of watercolors.
While my art is seemingly filled with symbolic imagery, bearing social or political commentary, I never consciously approach a drawing with the intent of forcing my beliefs or opinions on viewers. My creative process spawns from an organic and authentic subconscious journey and my creations manifest more by virtue of my own self-evaluation and less of propagating my ideology.
My persistent drive to provide thought-provoking content has helped to develop a dedicated following of over 300,000 members on Facebook and Instagram and played a critical role in my international success, helping to sell thousands of my original artworks worldwide. For over 11 years I have been touring the U.S. with my wife and two children, demonstrating the versatility of ballpoint pen through the trafficking of my artwork at galleries, museums and art fairs all across the nation. In addition to splitting my creation time between my studio in Salt Lake City, UT and my new studio in Hannibal, MO, I am also in the process of building an art gallery in the latter, with a tentative opening date in the summer of 2020.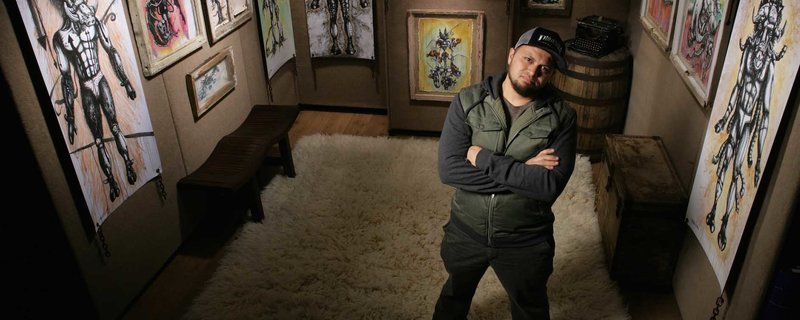 Frequently Asked Questions
Recognition
Best of Show Award - 2019 Uptown Art Fair
Award of Distinction - 2019 Lake Wells Festival of the Arts
People's Choice Award - 2017 Ft. Worth Main Street Art Festival (TX)
Top 10% Award - 2018 Uptown Art Fair (MN)
Invitational Award - 2018 Art Fair on the Square (WI)
3rd Place Award - 2017 Schlafly Art Outside (MO)
Juror Award - 2017 Utah Art Festival (UT)
Juror Award - 2017 Three Rivers Art Festival (PA)
Honorary Award - 2017 East Lansing Art Festival (MI)
Best in Show - 2016 East Lake View Festival of the Arts (IL)
Juror Award - 2017 Ft. Worth Main Street Art Festival (TX)
3rd Place Best in Show - 2016 Festival International (LA)
Merit Award - 2016 Kentuck Festival of the Arts (AL)
Merit Award - 2016 Winter Park Art Festival (FL)
Jury Award - 2015 Red River Revel (LA)
Award of Excellence - 2015 Plaza Art Fair (MO)
Best of Show - 2015 Brookside Art Annual (MO)
Award of Excellence - 2015 FestForAll (LA)
Best of Show - 2014 Red River Revel (LA)
Award of Distinction - 2014 Covington 3 Rivers Art Festival (LA)
Best Display Award - 2014 Covington 3 Rivers Art Festival (LA)
1st Place - 2014 Art Outside (MO)
2nd Place - 2014 Artisphere (SC)
1st Place (mixed-media) - 2014 Wells Street Art Festival (IL)
1st Place (mixed-media) - 2013 Wells Street Art Festival (IL)
Invitational Award (mixed-media) - 2013 Art Fair on the Square (WI)
1st Place (mixed-media) - 2010 South Miami Arts Festival (FL)
Best of Show - 2010 South Miami Arts Festival (FL)
Best of Show - 2011 Ann Arbor Summer Art Fair (MI)
1st Place (drawing) - 2011 Artfest Boca (FL)
Award of Merit - 2011 Red River Revel (LA)
Best of Show - 2011 Highland Fest (MN)
1st Place (mixed-media) - 2010 Castle Rock Arts Fest (CO)
1st Place (mixed-media) - 2012 South Miami Arts Festival (FL)
1st Place (mixed-media) -2010 Art in the Park (FL)
1st Place (mixed-media) - 2012 Art in the Park (FL)
Award of Merit- 2010 Funky Ferndale (MI)
Top 10% Award - 2012 Uptown Art Fair (MN)
Top 10% Award - 2014 Uptown Art Fair (MN)
DET NYE SORT

(beer label)

- TidensFarver & Brew42 Brewing, Denmark
Take the Black

(beer label)

- Howling Monkey Brewery, Denmark
Float Like a Butterfly, Sting Like a Bee

(Muhammad Ali)

- private collector
Pig's Eye

(album cover artwork)

- Blodwar EP
Eudaimonia

(album cover artwork)

- David Hasselhoff on Acid LP
Babylonia

(album cover artwork)

- Sonar Lights LP
Artificial Light

(album artwork)

- We Were Astronauts LP
Lights Out

(album cover artwork)

- Patchz EP
History of Pop Culture Mural

(Art hub building mural)

- Utah Arts Alliance
SLC Pepper Mural

(mural)

- Jann Haworth

(original designer of The Beatles Sgt. Pepper album cover)
2019 Solo Exhibition, 'I Am Animal' - SpaceJunk Art Center (Bayonne, FR)
2019 Solo Installation & Exhibition, 'The Oddity Bazaar' - Jackson Junge Gallery (Chicago, IL)
2019 Solo Exhibition, 'I Am Animal' - Moniker International Art Fair (New York City, NY)
2019 Group Exhibition, 'Annual Coaster Show' - Out of Step Gallery (Eugene, OR)
2019 Group Exhibition, 'Surreal Salon 11' (curated by Camille Rose Garcia) - Baton Rouge Gallery (Baton Rouge, LA)
2018 Group Exhibition, 'Wide Open 9' - The Brooklyn Waterfront Artists Coalition (Brooklyn, NY)
2018 Group Exhibition, "Zip, Bang, Pop! Run! It's the Cops!: Contemporary Pop Art and It's Influence on Street Art" - HUE Gallery of Contemporary Arts (Wichita, KS)
2017 Group Exhibition, 'A Modern Bestiary' - Jackson Junge Gallery (Chicago, IL)
2017 Solo Exhibition, 'thINK' - Gallery Undertaci (Aarhus, Denmark)
2017 Group Exhibition, 'Surreal Salon 9' (curated by Greg "Craola" Simkins) - Baton Rouge Gallery (Baton Rouge, LA)
2015 Group Exhibition, 'Holiday Bazaar' - Utah Arts Festival Gallery (Salt Lake City, UT)
2015 Solo Exhibition, 'Agglomeration: Unrest' - Hannibal Arts Council (Hannibal, MO)
2015 Two-Person Exhibition, 'Animal in Man' - Urban Arts Gallery (Salt Lake City, UT)
2015 Group Exhibition, 'Lost Lucid Dreams' - Urban Arts Gallery (Salt Lake City, UT)
2014 Solo Exhibition, 'Unrest' - Jackson-Junge Gallery (Chicago, IL)
2014 Group Exhibition, 'Submerged in Art' - Photo Collective Gallery (Salt Lake City, UT)
2014 Group Exhibition, 'May the 4th Be With You' - Urban Arts Gallery (Salt Lake City, UT)
2014 Group Exhibition, 'Urban Alchemists' - Urban Arts Gallery (Salt Lake City, UT)
2013 Group Exhibition, 'Submerged in Art' - Submerged in Art Gallery (Salt Lake City, UT)
2012 Group Exhibition, 'In City Heat' - Alpine Art Gallery (Salt Lake City, UT)
2012 Group Exhibition, 'Submerged in Art' - Submerged in Art Gallery (Salt Lake City, UT)
2011 Solo Exhibition 'Human Condition' - Brand32 Design gallery (Salt Lake City, UT)
2011 Group Exhibition, 'Submerged in Art' - Submerged in Art Gallery (Salt Lake City, UT)
2010 Group Exhibition, 'A New Perspective' - Submerged in Art Gallery (Salt Lake City, UT)
2009 Solo Exhibition "Urban Arts" - ByKali Gallery (UT)